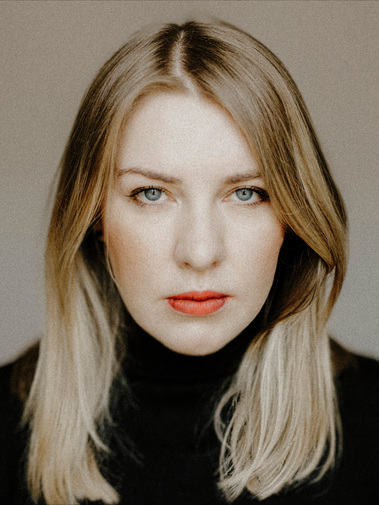 Gabriela Kaziuk is a graduate of graphic design in Łódź. In 2021, the Commission of Examinations considered her degree the best or most mature in recent years in emerging photography and graphic design, often referred to as postmodern photography. As a postmodern photographer, her work is characterized by atypical compositions of unconventional or sometimes wholly absent subjects. Such today's photography has entered into marriage with electronic editing, which has created new possibilities of blurring, or with a suitable accentuation, emphasising reality.
B i o g r a p h y

Gabriela Kaziuk born December 8, 1987 in Opole (Poland)
Graduate of Polish Philology at the University of Wroclaw (Thesis: Representations of Photography in Contemporary Polish Poetry - tutor Prof. Wojciech Soliński)
Graduate of Artistic Graphic Arts in Lodz (Thesis: Francis Galton's Composite Photography and its Modern Interpretations - tutor PhD Borys Makary)

E x h i b i t i o n s

Individual Exhibitions:
2023 Ziebice, La Petite Mort" (Poland) upcoming
2023 Lodz "La Petite Mort" in Galeria Patio (Poland) upcoming
2010 Wrocław "Fetish is my fashion" in ODA Firlej (Poland)
2010 Wrocław "Taste in Men" Wlodkowica 21 (Poland)
2010 Wrocław "8 i 1/2 mężczyzny" in Rainbow Festival (Poland)
Group exhibitions:
2022 Luxembourg "La Petite Mort" in Frisch Group Exhibition
2021 Roma "Contrast" international collective exhibition
2021 Lodz "Between black and white" collective Polish exhibition
2009 Poznań "Cafe foto allegro" (Poland)
2008 Wrocław "Miasto Sztuk" ( Poland)
2007 Brighton "Art Cafe" (USA).
Portfolio Review :
2022 Lisbon, Festival Fotográfico de Lisboa - Imago Lisboa
Projects
2020 There must be something in the water
2020 Polonais.lu
2021 We are cameras
2021-2022 La Petite Mort

Books
2018 Happ Healthy and Pure, ISBN 978-9935-497-83-3 / 1300 copies sold
Movie colaborations
Who Killed Asta Nielsen Réalisateur:Oliver Koos
The Past We Live In Réalisateur: Jérôme Weber
contact@gabrielakaziuk.com